By now you have heard about the Coronavirus.
The sad reality is that it is spreading quickly and will continue to spread for a while.
Did you know that we are getting roughly 13,000 new cases a day and it's growing fast?
No one really knows how many people will be infected (or will pass away sadly), but it has caused the global stock markets to crash, which means as a business (or even a marketer), you will be affected.
And because our sister SEO agency works with hundreds of companies in all the major sectors and we have 3 offices across the United States, we are already starting to see how it is impacting marketing.
As marketers, we've been conditioned to be prepared for any changes or disruptions that come our way. Being in such a fast-moving industry, we have no choice but to be proactive and embrace the pace.
The unfortunate spread of the coronavirus is no exception, and marketers everywhere are starting to review their strategies in an effort to adapt and overcome.
One of the most impactful effects the coronavirus pandemic has had on businesses is the forced cancellation or postponement of large in-person events.
Tradeshows, conferences, festivals, sporting events, and concerts have all had to either reschedule or cancel completely.
As COVID-19 continues to affect our daily lives, its impact is sometimes unexpected.
Paid ads on social media platforms, for example, are suddenly coming at a steep discount as some businesses pull their content and more at-home workers hang out online.
What's happening to organizations' marketing budgets?
A lot of businesses still rely heavily on tradeshows and traditional marketing that requires people to be in-person; for some, that's where the largest chunk of their marketing budget is applied.
Because of this, some B2B organizations are cutting back on their marketing budget.
According to Michael Nathanson, an analyst at MoffettNathanson, with companies widely expected to slash marketing budgets, the ad industry could see nearly $26 billion in lost revenue, or a 10.6% decline.
This makes sense, because marketing generally is one of the first things to get cut. I'm not saying that everybody out there right now can afford to keep every employee, but you shouldn't lessen your marketing activity. [Cutting marketing and video is] going to hurt the organization's ability to keep any momentum going once things get back to normal.
Amidst this shift companies looking to capture market share are reallocating their marketing budget to digital efforts.
For the companies that are going digital, they're quickly realizing that because they spend so much money on traditional marketing or advertising, they now have a large amount to spend elsewhere.
Even if they put a portion of that budget to online efforts, they're likely to see productive growth of their web presence, especially if they're quicker to react than their competitors.
By capitalizing on their current digital efforts or — for some — finally making the move to a more modern-day marketing style, companies can not only continue to push through the hard times and stay relevant, but they can also measure the success of their work.
Reporting on your return on investment (ROI) is something that is harder to do with traditional marketing. By using digital methods, you can gain more insight into metrics like unique monthly visitors, cost per acquisition, return on ad spend, cost per lead, and more.
And, if you're an organization that has been embracing digital tactics for a while, now could be a great time to review and potentially refocus your strategy to adapt to the current events taking place.
But, we cover what to do, let cover what not to do.
Don't exploit the situation
The first thing we are seeing is people trying to exploit fear.
What I mean by this is supplies are running low around the world. From masks and toilet paper to hand sanitizer and other basic necessities… I am seeing marketers buying them and then reselling them on eBay or running ads and selling them for 10-50x the price.
This isn't entrepreneurship and this isn't marketing. I highly recommend that you avoid exploiting the Coronavirus situation to make a quick buck.
Not only is it wrong but it is also very short-sighted. Sure you may be able to make a quick buck, but it won't last… you are better off spending your time on anything that is long term.
So now that we got that out of the way, what does the Coronavirus mean for marketers?
Organic traffic is down in most industries
As I mentioned above, we work with hundreds of clients in different industries through our agency and sister companies. On top of that, we also leverage tons data from Google, Facebook, and Hubspot.
Before I dive into the data, note that we didn't focus on the United States alone. Instead, we decide to look at the traffic stats from a global perspective. We also didn't include data from sites with less than 5000 visitors a month as they tend to have drastic swings from a percentage perspective even when there are no global issues or algorithm updates.
We also don't have data on every single industry, for example, we don't really work with many restaurants nor do we purchase data for that category as local restaurants usually don't have the biggest marketing budgets. We have data on most of the major ones, but again not all.
Now, from an SEO standpoint, last week we saw huge drops in organic traffic for most industries we are tracking. Just look at the chart below (compares last week to the previous week).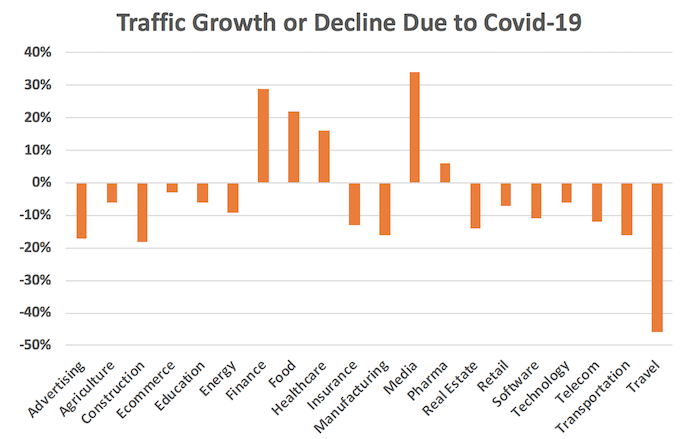 If you are in the news industry or financial space, your traffic skyrocketed.
And if you are in the travel industry, you saw massive drops in traffic.
You can't tell by the chart, but e-commerce was a mixed bag, depending on what sites sold, traffic was either up or down. For example, if you were selling baby products like diapers or wipes then you saw a nice bump in traffic.
But if you were selling luxury goods like big-screen televisions you saw a drop in traffic.
Conversions were also down for most industries
From a conversion rate standpoint, we saw drops in most industries as well. Even the financial sector, which had big traffic booms in traffic, dropped in conversions.
Just look at the chart below (comparing last week to the previous week):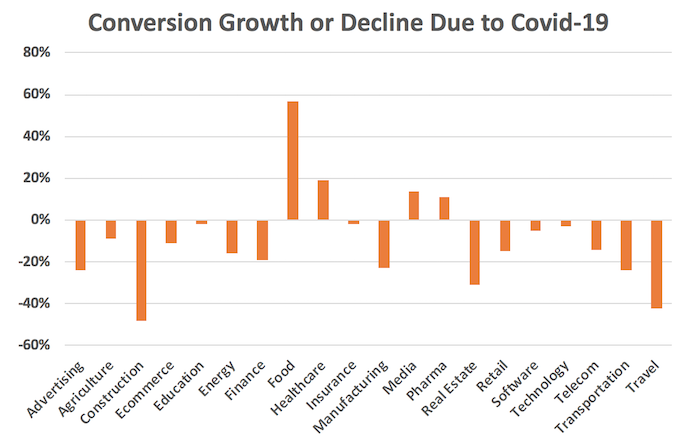 As for news (media) sites, they had a big conversion lift as many of them charge for people to read their updated information.
For example, you can only read a certain amount of content from the Washington Post for free until you see a message that looks like this: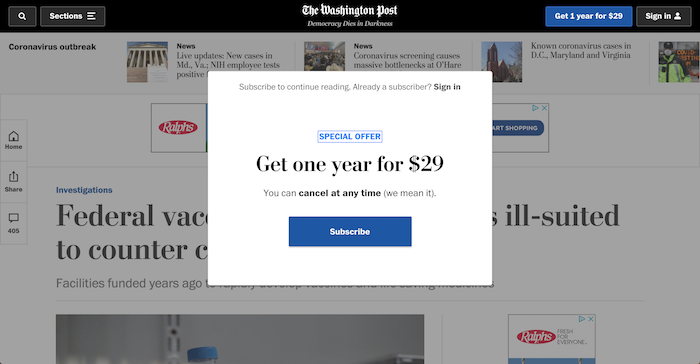 People didn't want to miss out on Coronavirus, political and financial information with the turmoil, hence news sites saw a nice lift.
And with some sectors like travel, they are currently offering massive discounts, which is helping counteract some of their traffic declines. Overall, they are still seeing a massive revenue hit.
5 tips to get the most out of your digital strategy during the pandemic
If you're wondering what you can do or how you can pivot to keep your organization afloat and maintain your competitive edge, you're not alone.
Many companies across the world (including Monkeyhouse Marketing) have buckled down and started to come up with creative ways to break through the noise and remain a leader in their industry through digital outlets.
1. Host an online event or webinar
If your organization had an event that was affected by the outbreak, that doesn't mean you can't get people together and still deliver the value they were looking forward to.
At Monkeyhouse Marketing, we are working with University of Notre Dame –  Mendoza School of Business to put together a FREE webinar to help local non-profit organizations  learn how to use Hubspot CRM to navigate these challenging times.
We'll also be hosting a webinar soon with our friends at La Chat Digital talking about how sales and marketing leaders can future-proof their businesses with a customer-focused, budget-conscious sales and marketing strategy. (Interested? You can register here.)
Even if you weren't planning an in-person event, hosting an online webinar or interactive workshop can prove to be extremely helpful and beneficial for your audience in tough times like these.
2. Get your sales people to adapt and align with marketers.
For companies who hadn't brought digital into their sales process with virtual selling, putting the right technological foundation in place is essential so that you can communicate with each other and with clients, all while organizing, recording, and protecting your data.
Solution: You need to get certain virtual tools in place as soon as possible.
The good news is that many tools have free and trial versions — and a bevy of tech support options available for those just getting started.
Free tools like Skype, FaceTime, or Google Hangouts might work just fine. Other more robust conferencing solutions like Zoom, Join.Me, and Microsoft Teams are designed for business.
Start by using a platform internally so you can work out the kinks before a client call. Watch online tutorials to help you troubleshoot.
Also, you understand the learning curve for technology can appear steep, [too some older employees] but it is often people's insecurities that are the biggest inhibitor. The last thing you want to do is keep your workers in the dark, taking too long to put solutions in place.
Solution: Communicate that you're going to do everything in your power to make this digital transition quick and smooth. Give them a date by which the plan will be rolled out, and make sure to include mandatory training sessions when you announce any new tool.
Encourage your most enthusiastic, respected team members to participate in the tool selection and the planning for trainings. They can be your cheerleader and even help support others on the team.
Pro tip: Make a recording of the training available to your team members after the session is over so that they can refer back to it.
Use video so there is a visual component to to look back on, and even open up a hotline or support ticket line where sales reps can ask questions and get answers they need to use the tools effectively.
Monkey tip: Zoom is nearly industry-standard at this point — enough so that The New York Times published the headline We live in Zoom now late last week. Zoom has a free version to get you started, but there are some limitations (like having a 40 minute meeting maximum for groups larger than two).
For non-profit organizations, consider learning new funding methods via an online course such as, Principles of Leading Transformational Nonprofits
3a. Create content pieces around what's happening
Content marketing can become an effective way for you to remain in touch with your customers and increase pipeline generation during the coronavirus pandemic. With the ever-changing digital landscape, communicating and engaging with your audience can remain undisrupted, no matter what the situation is – as long as you have the proper content marketing strategies in place.
Since trade shows are primarily used for demand generation initiatives and pipeline acceleration, focusing on digital lead generation channels becomes vital. Many marketers would say that increasing digital spending will increase lead volume, but quality can vary. Some would argue that the quality of leads generated at trade shows can also vary – as long as the leads are carefully vetted, pipeline generation will increase without having to rely on trade show participation.
As we see more event closures, brands should follow IBM's innovative lead and adapt their previous plans to become digital events. In doing so, brands will have the opportunity to globally scale their events and increase engagement – further proving the importance of content marketing. Digital events will allow you to become storytellers en masse and provide consumers with the content of value increasing brand awareness and engagement. Customers and prospects seek out content that entertains, inspires, educates, and informs – a strong content strategy will give you the opportunity to leverage important elements from experiential marketing online.
In addition creating content, it is important to optimize your current content, and, also you'll want to create unique pieces around newly targeted search queries. In a time like this, consumers are looking to learn as much as they can about how coronavirus might be affecting their everyday routines and business plans.
Use this as an opportunity to generate new ideas for blog posts or put together a weekly newsletter for your prospects and customers to show them you're just as concerned as they are, and as a result, you're going to keep them updated on everything important.
If it makes sense, you can also write a press release to inform the media and a broader audience on a specific topic of importance.
3b. Optimize your website content for users and search engines
Because recent buying behaviors have been forced to change, the way people are searching for things online may also have changed.
Ensure you're staying up to speed on the most highly searched keywords relevant to your product or service, and brainstorm ways that you can tweak your website content to align.
Also, make sure that your calls-to-action still make sense as the best next step for the user to take. 
4. Dive into video and season it with Facebook Ads.

Few will question the importance of video marketing.
Video content has boomed in the last couple years, and creating a video right from your computer is easier than ever.
But when you're putting your video marketing strategy together, it's important to remember great video content can go a long way—often farther than most marketers realize.
By creating a video and publishing it on YouTube, it will live on the No. 2 search engine in the world. And the presence of video itself affects the most important SEO ranking factor: content. There are lots of video marketing best practices you can implement, but just having a YouTube video linked to your site is valuable. It sends a message to search engines that you're providing content relevant to media search requests. You can also reinforce your message and differentiate it from your competitors with unique text and graphics.
Video Marketing is Critical to Your Strategy
Why is video marketing critical to your overall digital marketing strategy?
59% of executives agree that if both text and video are available on the same topic, they are more likely to choose video.
Online video maker Moovly found you are 53 times more likely to show up on Page 1 of Google search results if a video is embedded on your website. (Google owns YouTube, so videos can have a significant impact on your search engine ranking. )
It also positively impacts click-through rates on emails—sometimes as much as 200 to 300 percent. 
A video may cost a little more, or take a little more time to put together, but it will greatly enhance your potential for views and conversions. And that will improve your ROI.
Why?  Check out these stats from G2 Crowd:
Viewers retain 95% of a message when they watch it in a video compared to 10% when reading it in text.
Social video generates 1200% more shares than text and image content combined.
75% of all mobile data traffic worldwide will be video by 2021.
Your efforts typically pay off in a big way.
Video can also be used to replace or supplement written content that you share on your website and social media platforms. According to Hubspot, 78% of people watch online videos every week, and 55% view online videos every day, why would you not incorporate video into your marketing strategy?
Over the last few years, getting brand content including video seen on its own accord has become next to impossible as Facebook aims to bring the focus back to friends and family.
Fortunately, that's where Facebook ads come in.
The global outbreak of the coronavirus (COVID-19) has shocked us all. Virtually every human on the planet is impacted and we are now banded together in a common purpose. Like any useful tools, Facebook Ads and Instagram ads have a role to play in helping us survive and thrive again as people and as businesses. Here is an early overview of what we're seeing as the current "new normal" for paid social during the outbreak.
Unfortunately, the virus is affecting the majority of the economy. The hospitality, travel, retail, live entertainment, and event industries are most obviously affected but many ecommerce companies are seeing their supply chains interrupted too. This is forcing many businesses to temporarily pause ads.
With more people at home in front of their screens, it's a great opportunity for businesses to use PPC marketing to connect with their customers and gain a competitive advantage. Oh, and it's a great chance to save some money within your digital marketing budget
Paid ads are suddenly coming at a steep discount as some businesses pull their content and more at-home workers hang out online.
We have a client who, during the Valentine's Day, saw CPMs up around $17.60. For the last seven days, it's down to $6.20. That is amazing.
Also, due to the number of people suddenly having more free time on their hands, or just looking for a distraction, the amount of time spent on Facebook and Instagram is going up. Early estimates are seeing time spent on the platform rising between 29-53% in regions that were first hit by the crisis.
You can use Facebook Ads to generate leads, market to existing customers, and retarget existing customers.
To make the opportunity even greater.
Facebook annouced it is giving $100M in Facebooks Ads to small businesses.
"We want to do our part," COO Sheryl Sandberg wrote in a post announcing the initiative.
As the novel coronavirus pandemic continues to impact communities around the world, Facebook said it would be offering $100 million in cash grants and ad credits for "up to 30,000 eligible small businesses in over 30 countries where we operate."
"People across the globe are stepping up, rising to the enormous challenge in front of us," COO Sheryl Sandberg wrote in a post. "We want to do our part too."
Now, don't get slick.
Facebook is tightening up its rules on ads that reference the novel coronavirus, in an attempt to curtail misinformation and fearmongering about the outbreak.
The social network will now ban ads that mention it if they promise to cure or prevent the virus, or attempt to "create a sense of urgency" about it.
Here's how to market on Facebook the right way.
Follow the Inbound Marketing Methodology.
In essence, focus on saying, sharing, and showing things to attract, convert, close, and delight (a process every inbound marketer should know by heart!)
Now, I won't belabor the point of why you should be on Facebook any further—you should already know the number of active users per month (2.19 billion, most likely includes your audience.
You just need to be able to effectively reach them.Start with simple stuff like making sure you have your pixel installed, and start building out some base level audiences.
Look at your Facebook engagers, Instagram engagers, all your website visitors, and your email list. Build those four simple audiences, create lookalikes off of them, and then you can be spreading your organic content out to both of those. 
Focus on top of funnel and middle of funnel — just make sure you're staying top of mind with people and sharing good, relevant, and non-self-serving content.
 5. Get your brick and mortar customers unafraid of doing business with you online.
The beauty of digital sales is that it allows your brick and mortar location to be only one facet of your business. A generation ago, if a storefront closed, the business folded.
Today, the shopping world is increasingly shifting to online commerce. According to Oberlo, "in 2020, e-commerce sales are expected to account for 15.5% of retail sales worldwide," up from about 7% five years ago. 
Solution: Of course, this depends on your business. If you're looking to launch an e-commerce platform, there are many solutions. 
Or, if you use your physical location for sales meetings, turn that former in-store appointment into a virtual in-home appointment. You can set up a scheduling tool on your website and allow customers to set up virtual appointments online.
When it comes time for the appointment, both the salesperson and the consumer will join the video call, and the salesperson can conduct their meeting as they normally would. 
Your sales team can encourage contacts to use the scheduling tool, either by calling them or emailing them to help you generate demand. 
You can also run digital ads to drive traffic to your appointment scheduler and generate additional demand. As long as electronic payments and shipping can get the consumer their product, you should still see the fruits of adapting quickly and helping consumers get the products they still need.  
Also, if your hours have changed, don't forget to update your Google My Business profile so that customers know how and when they can find you.
Pro tip:  Think about what you might ask the prospect to do before they show up for the virtual appointment. Do you have a video that you could send them so they are more educated about your sales process or your product before the virtual meeting?
Doing so can help you shorten your meeting time and open up your calendar to conduct more appointments.
If you really on Tradeshows and Live Events, the same goes for you.
Companies often spend heavily to be represented at trade shows and other events. But don't panic. Remember, no one is attending these events right now. You're not missing out on opportunities. These opportunities currently don't exist. 
You'll still be able to reach qualified buyers, and you won't spend as much to do so. 
Solution:  It's likely that you've been given advice over the years to reallocate your tradeshow budget to digital or inbound marketing. 
When you meet with prospective customers at tradeshows, they typically want to know things like "What problem does your product solve," "How does that compare to your competitors," or "How much does it cost?" 
Now, people will still be searching for these same answers, but they'll be searching for them online. You'll want to be the most trusted resource for answers they can find on the internet. All you need to do is write down the answers to these questions and publish them. It's that simple. 
Pro tip: Once people are on your website, they'll be hungry for more information. Video will get them to convert at a much higher rate than text alone. Here are a bunch of stats to reference about the efficacy of video, but my personal favorites are these: 
Marketers who use video grow revenue 49% faster than non-video users
Video drives organic 157% more traffic from search engine results pages
The average conversion rate for websites using video is 4.8%, compared to 2.9% for those that don't use video. Bryan Chris is a local resource we use for videography work.
Conclusion
Hopefully, the Coronavirus passes soon and it has minimal impact on lives. For the time being, try not to socialize with others too much or go into crowded places.
You should read this article by the Washington Post as it breaks down great simulations of how the Coronavirus will spread and what we can do to reduce the impact on the world.
Get the most out of your digital marketing efforts
Knowing all that's happened and will happen, it's extremely important that your business is quick to adapt and overcome any obstacles.
If you've been given the opportunity to reallocate your marketing budget, consider getting ahead of your competitors and implementing more digital tactics like online webinars, live or recorded video content, and written content that matches what your audience is searching for.
And as for your marketing, this is the time for you to double down. Don't be fearful when others are also afraid. Do what Warren Buffett does… be greedy when other people are fearful.
In the end, any amount of time spent on strategizing and optimizing your digital strategy will be fruitful, as the overall results you accrue will far outlast the coronavirus.
You need to stay relevant, stay top of mind. There are ways that you can help, even just for your own sanity.
And don't be afraid to put a face to the brand.
Don't just think, "Oh, well now I'm not in the office. I'm stuck in my house. I'm not going to do something." Everyone is just like you. News anchors are reporting from their kitchen tables and basements. We're all pivoting and in this together.
Our advice is to talk to people about what you're planning. Stay engaged with everybody and I think it's going to make normalcy start to feel like it can come back.